Description
Uwell Caliburn G2 Pod Kit Ireland
The Uwell Caliburn G2 Pod Kit is a great pod starter kit, featuring a 2 ml pod, with a replaceable coil, USB type-c charging, vibration interaction, and a progressive airflow adjustment.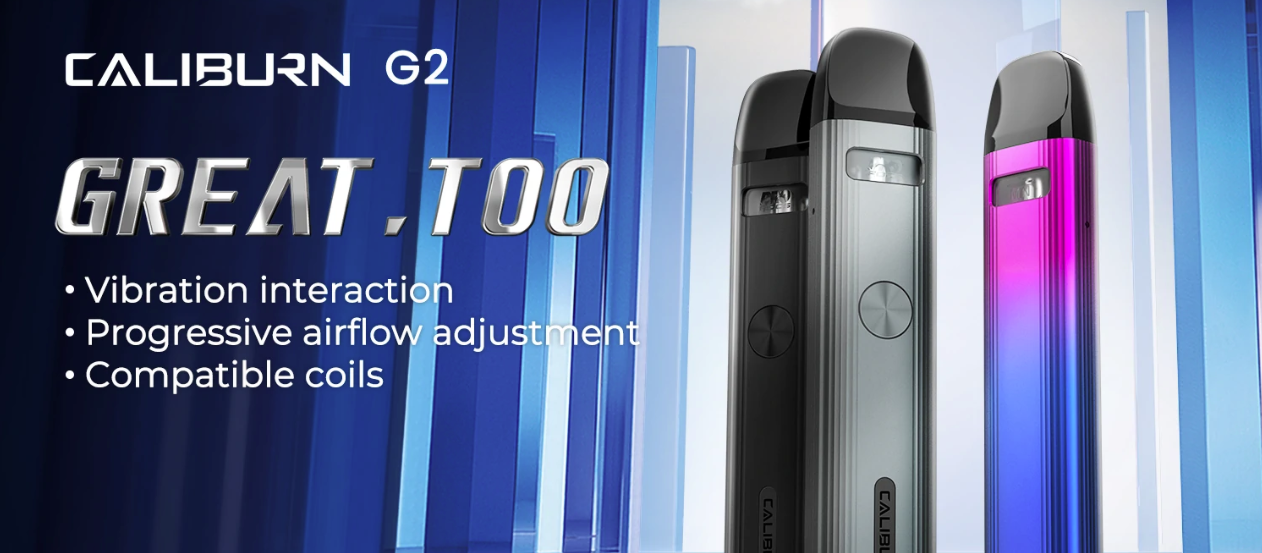 Available in Six Stunning Colours
Carbon Black
Pyrrole Scarlet
Shading Gray
Gradient
Ultramarine Blue
Cobalt Green

Exploded View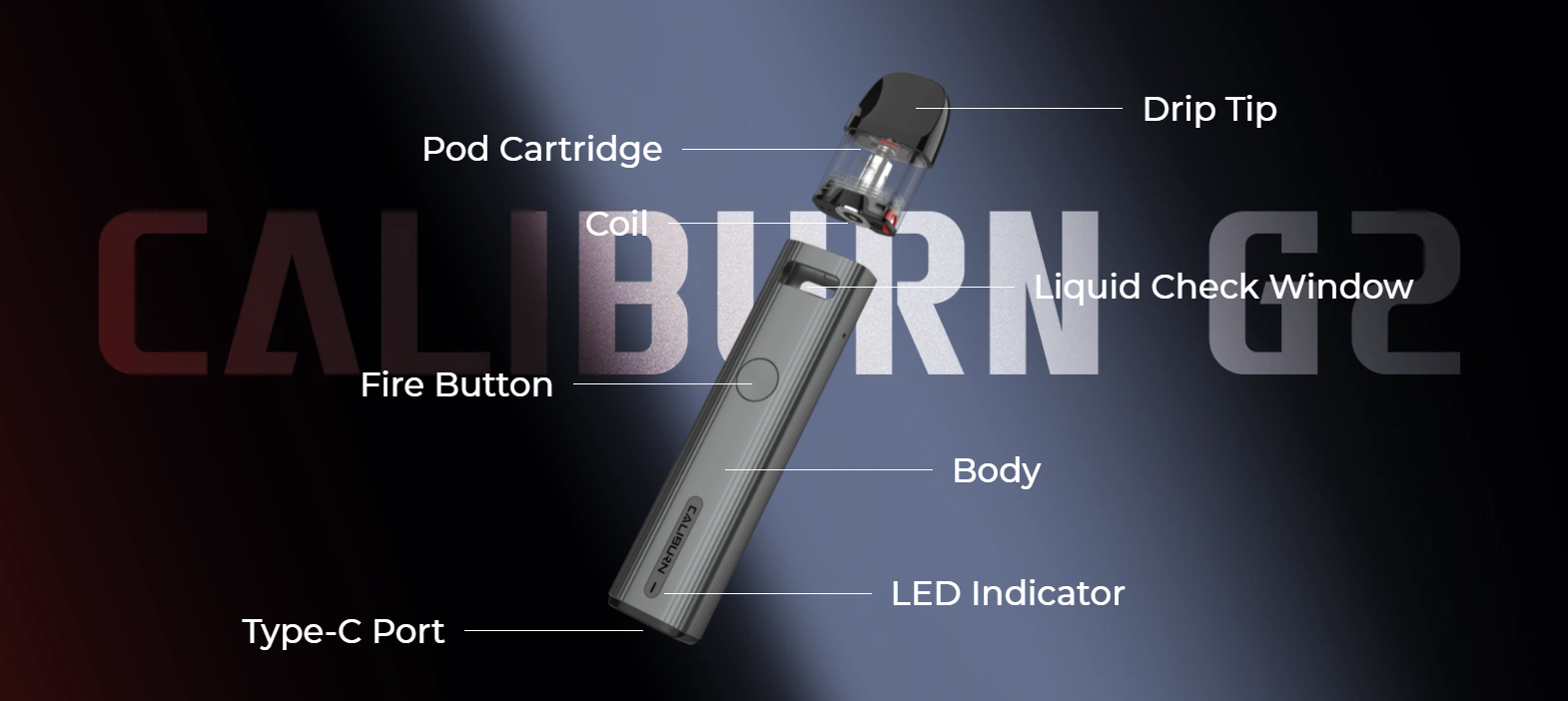 Vibration Interaction
The device gives haptic feedback through different vibrations, to notify users of issues, such as short-circuit, low voltage and overdraws.

Progressive Airflow Adjustment
The Caliburn G2 adopts a wheel, which can be used to adjust the airflow and make it easier to get your ideal flow.

Compatible Coils
The Caliburn G2 provides an excellent MTL vape and restricted DTL vape, thanks to its compatibility with the following coils:
Caliburn G2 — 0.8 ohm meshed-H
Caliburn G2 — 1.2 ohm meshed-H
Caliburn G — 0.8 ohm
Caliburn G — 1.0 ohm

Comfortable Mouthpiece
The ergonomic shape of the drip tip better suits your lips, making each puff a pleasant one.

Pro-FOCS Tech
Pro-FOCS is the key to achieve great e-liquid flavour, providing original taste to the very last drop of e-liquid.

E-Liquid Check Window
Compared with the previous, Caliburn G, the Caliburn G2's e-liquid window reduces the chance of running out of e-liquid, and prematurely burning your coil.

Easy Top Filling
It takes less time and effort refilling the Caliburn G2, thanks to its convenient top-fill design.

Draw-Activated and Button-Activated
You can use the button to fire up the vape, or simply draw from the mouthpiece.

Specifications
Parameters

Product name:
Uwell Caliburn G2 Pod Kit
Size:
110.5 mm x 22.5 mm x 13 mm
Battery capacity:
750 mAh
E-Liquid capacity:
2 ml
Net weight:
36g
Output wattage:
18 watts
Coil specifications:
FeCrAI UN2 Meshed-H 1.2 ohm
UN2 Meshed-H 0.8 ohm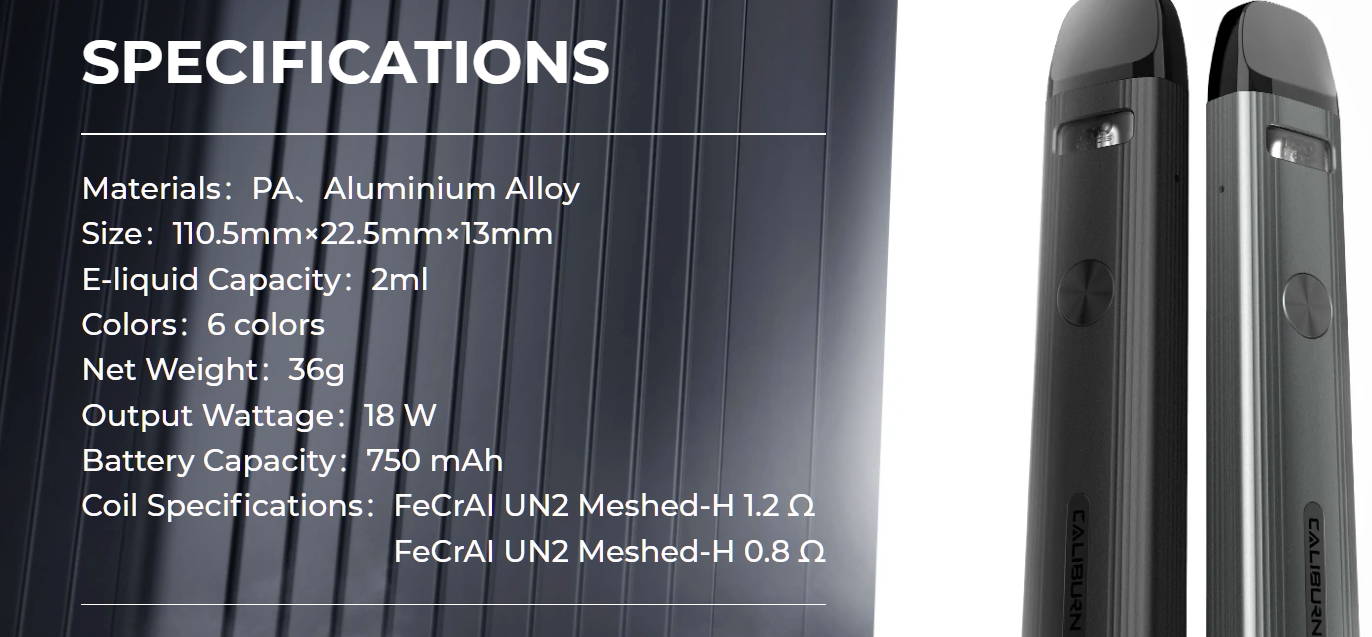 In the Box
Included with the Uwell Caliburn pod kit are the following items:
1 x Caliburn G2 Pod Kit
1 x Meshed-H 1.2 ohm coil
1 x Meshed-H 0.8 ohm coil
1 x User manual
1 x Type-C charging cable