Description
Innokin GOZEE Go Z+ Kit
Ireland - Our Best Seller
The light and compact design allows you to carry an electronic cigarette with you wherever you need it, so you have it always at hand. This is exactly what the Innokin GOZEE offers. It features an integrated battery with long life, but also with enough power for sub-ohm resistances, so that you can enjoy even large clouds of vapor. The e-cigarette is equipped with a USB-C port that supports fast charging up to 2A. With its dimensions, the Innokin GOZEE is an ideal device for travel, it can easily be hidden in a pocket or bag.
Innokin GOZEE is not a complicated electronic cigarette and boasts simple controls with which you can easily set the desired wattage. It is available in the range of 6W-60W and a clear display and control buttons will serve to conveniently set the required power. There are also the necessary protections for safe vaping.
The color mod is complemented by a practical PCTG tank with a volume of 3.5 ml, which is equipped with a handy top filling system. It is also possible to change the heating heads in the tank. Just unscrew the bottom base into which the head is screwed. The kit contains two heads and thanks to them, both fans of direct lung vaping and mouth to lung hits will find something to their liking. You can try a head with a resistance of 0.3Ω and a head with a resistance of 0.8Ω. For the ideal vaping experience, there is also an airflow control, with which you can adjust the tightness of the draw to your needs.
Package contents and parameters
1x Innokin GOZEE mod
1x Innokin Go Z tank
1x heating head 0.3Ω
1x heating head 0.8Ω
1x USB-C cable

Package contents and parameters can be further specified.

Dimensions: 119.45mm x 35.73mm x 27.02mm
Volume: 3.5ml
Variable wattage: 6W-60W
Output voltage: 1V-7.5V
Supported modes: VW
Supported resistance: 0.2Ω-3.5Ω
Output current: max. 17.5A
Battery: 2100mAh
Charging: USB-C port (5V / 2A)
Thread: 510 and spring-loaded contact
Material: PC, ABS, stainless steel, glass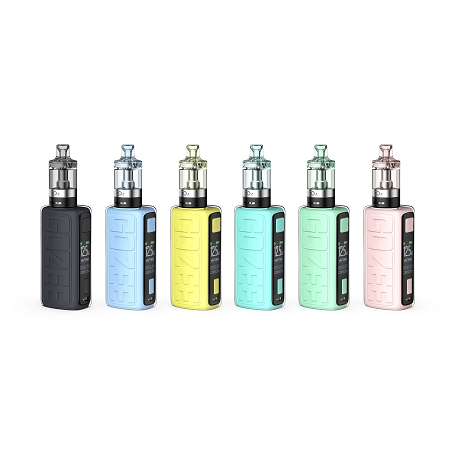 Battery
The lightweight plastic construction offers an integrated battery with a capacity of 2100mAh and adjustable power of up to 60W. You can easily adjust it via the display and buttons.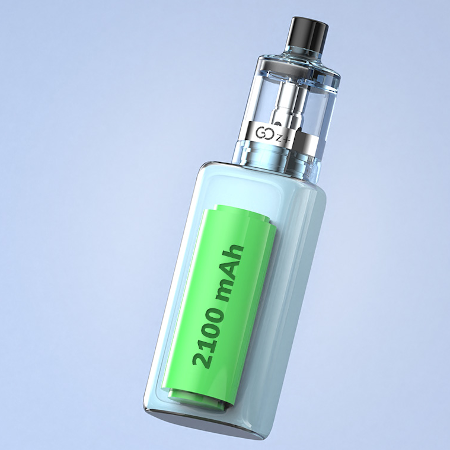 Charging
A fast USB-C port is ready for charging.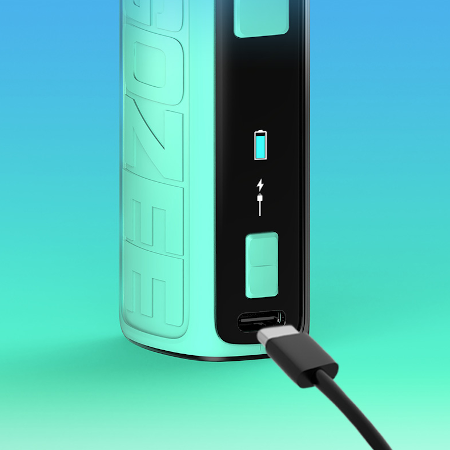 Control
The clear display offers information on the set power, resistance, voltage, battery, but also on the time and number of puffs. You can also easily set the required power with it.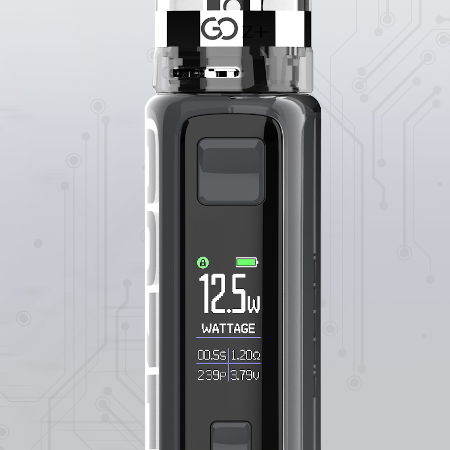 Filling
There is no need to unscrew anything to fill the tank, just slide off the top part of the tank and you can easily add up to 3.5 ml of e-liquid.